Ghostlady is Renee Bertsch Hytinen on the farfisa, guitar, vocals, Dave Niles on bass and guitar, and Allison Stanley on drums, bells, vocals. Renee and Allison began playing in bands together in Chicago somewhere around 2001. Since 2007 Ghostlady has been haunting a wood paneling basement in Ann Arbor, MI.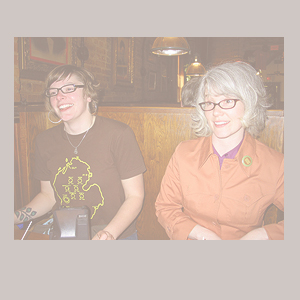 Listen to some music by Ghostlady:
Tune into the Clutter Music radio player to hear songs off 'When the Sheet Hits the Fan' (clicking on the music player does not close this window)
Plus, here is a little mp3 song from 'demo treats' (May 2007)
Sidecar sidecar
More info….
Please check out the shows page for upcoming shows. You can purchase our CD by contacting us at the link below. Also, the record is available for download at our band camp site.

Contact Ghostlady here.

ps - Photos

pss - You can also visit us at our myspaces. Thanks!